Taksvärkki campaign 2023–2024
What does a just world look like?
Every young person has the right to influence their own future. Young people are not only the future, but also the present, and that's why it's important to guarantee equal opportunities for everyone today to get their voices heard. The Taksvärkki campaign 2023–2024 deals with young people's influence and ideas about the future.
In the "You make a difference" campaign, young people from Sierra Leone talk about their work making a difference, the related challenges and their visions for the future.
Sierra Leonean youth dream of education, work, equality and a peaceful future. However, poverty, corruption, inequality and climate change have hampered their schooling, opportunities to influence society and future prospects. The civil war that started in 1991 and lasted for 11 years destroyed their homeland almost completely and deprived many of their childhood and youth. Life was also significantly complicated by the Ebola epidemic in 2014–2015, when, for example, schooling was interrupted for nine months.
However, many problems have been successfully solved and people are working for the future of Sierra Leone. The country passed an equality law in 2022, which guarantees women 30 percent of parliamentary seats and positions in local government. The recently renewed youth legislation also guarantees better opportunities for young people to participate in regional decision-making than before.
Young Sierra Leonean changemakers promote equality and the inclusion of people with disabilities, intervene in harmful practices and prevent gender-based violence. They organize talk shows on the radio, educate teenagers about sexual and reproductive health and rights, speak in their communities about the rights of girls and disabled people, and challenge the authorities to act equally.
Taksvärkki promotes the conditions for young people to participate in the development of their own communities. Thanks to the funds collected in Taksvärki, our work can continue. The collection proceeds are used to finance our development cooperation program. In addition to Sierra Leone, we support youth inclusion and human rights in Guatemala, Kenya, Malawi, Mozambique, Nepal and Zambia.
Let's make tomorrow just for everyone.
Taksvärkki works from youth to youth
By spending one day at work and donating their pay to Taksvärkki (ODW Finland) 's campaign, Finnish youth fund a long-term development cooperation projects. Taksvärkki's local partner organizations are in charge of the practical implementation of the projects.
Young people have what it takes to change the world. That is why they are the protagonists, not merely beneficiaries in Taksvärkki's development cooperation projects. The annual Taksvärkki campaign is young people's own development cooperation, from youth to youth.
Taksvärkki is your chance to make a difference!
Your Taksvärkki workday can be any day during the school year. 
During the Taksvärkki Workday, the students in order to earn a pay. The pay is then donated to the Taksvärkki fundraising. The Taksvärkki Workday can be realized as a traditional one-day work for each student or, for example, as a joint event of the entire school.
In Finland, the Taksvärkki campaign has a strong development education component. Our volunteer Global Educators visit elementary and secondary schools in different parts of Finland and hold workshops on equality, discrimination, active youth, and children's rights. These workshops are complemented by high-quality learning materials and study packages for teachers. The goal is to raise a sense of global responsibility in Finnish youth and to build links between youth.
Do you need help or tips organizing a Taksvärkki Day? Please contact us: ilmoittautuminen@taksvarkki.fi
The proceeds from the Taksvärkki fundraising are used to support young people making an impact, for example through these means:
A three-day camp on influencing skills for one young person in Nepal.
A one hour radio show in support of disability rights in Sierra Leone.
A data collection process carried out by young people in communities on child marriage, sexual rights and on education-related themes in Malawi.
Taksvärkki fundraising day
One part of the Taksvärkki campaign is the Taksvärkki fundraising campaign. It is based on a day's work, or "Taksvärkki".
Different collection methods:
Where can you find Taksvärkki jobs?
On a Taksvärkki Workday, you can work in a company or household, for example. Taksvärkki work can be done almost anywhere, for example in a shop, office, café, home, local radio station, theater or parliament as an assistant. The whole school or class can also do contract work for a municipality or company together.
The Taksvärkki Workday also makes workplaces familiar
On a Taksvärkki Workday, students can learn about working life in a field they are interested in. At the same time, they can gain useful experience and network for future summer jobs.
Taksvärkki Newsletter
Taksvärkki's monthly newsletter gives perspectives on different cultures and the realities of developing countries. It gives useful tools and materials to be used in global education in schools and other educational institutions as well as the latest news related to the campaign.
The patroness of the Taksvärkki campaign is President Tarja Halonen.
children and youth in Guatemala, Kenya, Malawi, Nepal, Sierra Leone and Zambia participated in Taksvärkki's development cooperation programme.
active youth participated in implementing the Taksvärkki's development cooperation programme.
adult duty-bearers participated in promoting and supporting the rights of youth.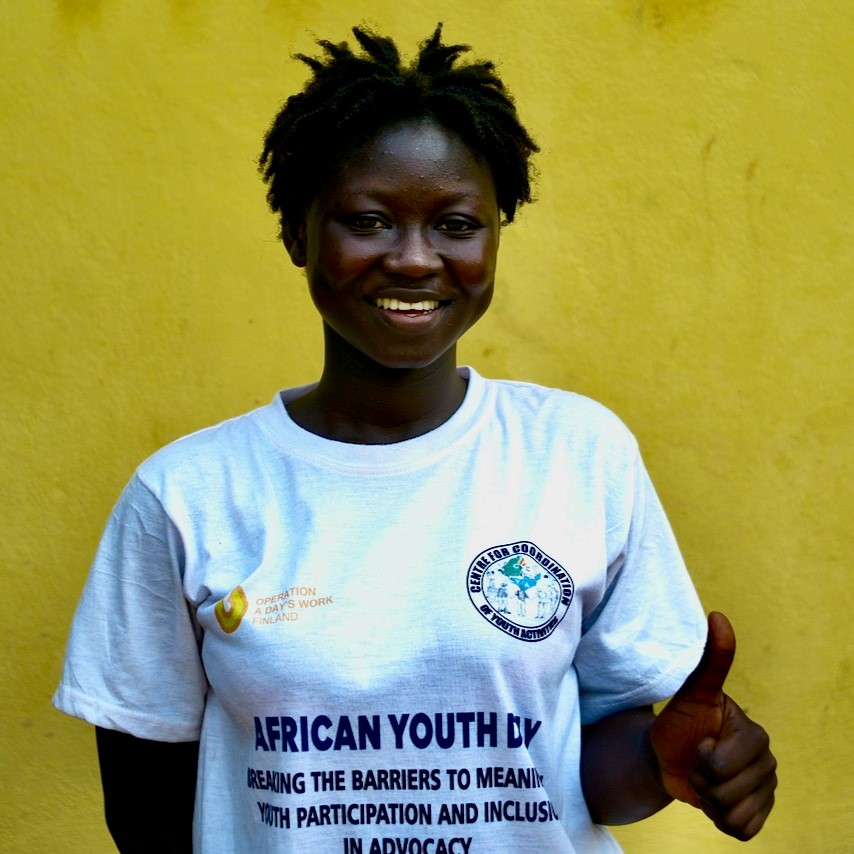 "When I advocate something and it happens, it gives me strength and makes me want to do more."
Fatu, 15, Sierra Leone